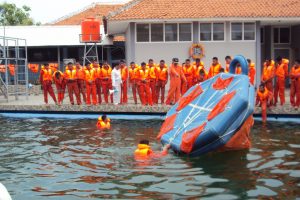 The Basic Safety Training (BST) is mandatory training requirement in accordance with STCW Code A-VI/1 for all seafarers looking for a job on board of vessels over 24 meters.
Objective:
The aim of the Basic Safety Training (BST) is to provide key safety and survival skills for personnel starting their career at sea. The course comprises of 4 core modules:
• Personal Survival Techniques (A-VI/1-1);
• Fire Prevention and Fire Fighting (A-VI/1-2);
• Elementary First Aid (A-VI/1-3);
• Personal Safety and Social Responsibility (A-VI/1-4);
• Some centers also include Security Awareness Training for All Seafarers (STCW code Reg. A-VI/6-1) these days.
Course Content:

• Sea survival techniques including launch of life raft, use of safety equipment, swimming practices.
• Ship fire prevention theory and practice with the use of different types of firefighting equipment and breathing apparatus. Self rescue from smoke filled spaces training.
• First aid practices with the premium on CPR, various methods of bandaging, transportation of injured and emergency help without the required equipment or drugs.
• Personal Safety and Social Responsibly module covers such issues as safety at the working space and accident prevention as well as emergency alarm raising and signaling. There is also set devoted to employee rights, working conditions and labor related regulations.
• Where Security Awareness module is present in the syllabus it provides skills to recognize dangers and patterns that might threaten security of the vessel or the crew and familiarizes with response scenarios.
Target Audience:  Mandatory for all ranks.
Pre-requisites: None.
Duration: 5 days.
Training Centers Offering This Course