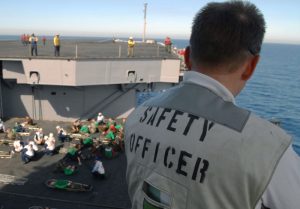 The Ship Safety Officer (SSO) course is based on the guidelines provided by the Table A-II/2 & A-III/2 of STCW 2010 and IMO Model Course 3.11 and is aimed on decreasing the number of shipboard accidents resulted from safety neglect.
Objectives:
• Understand the role and duties of Ship Safety Officer (SSO);
• Be able to identify various hazards associated with shipboard operations and raise safety awareness accordingly;
• Familiarize with ISM code and other attributed legal framework;
• Carry out risk assessment, accident investigation and root cause analysis;
• Learn to work with personnel, conducting interviews, accessing stress and fatigue levels, handling safety meetings;
• Introduce to internal and external safety audit processes.
Course Content:
• ISM code and affiliated Health and Safety legislation;
• Duties, responsibilities and daily routine of the SSO;
• Risk assessment, accident investigation and root cause analysis module;
• Internal safety audits guidelines, port state authority, vetting audit tips;
• Safety meetings and raising safety culture onboard;
• Controlling stress and fatigue levels, their impact on human errors and shipboard accidents;
• Accidents and near misses log keeping and reporting system.
Target Audience: Any shipboard personnel who meet the requirement and might be appointed as Ship Safety Officer.
Pre-requisites: Course participants must be at least 18 years old and possess minimum 12 month of sea-going experience.
Duration: 2 – 3 days.
Note: Check also Ship Safety Officer (Refresher Course).
Training Centers Offering This Course