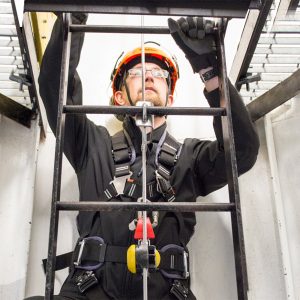 The GWO Working at Heights is one of the compulsory courses in the Global Wind Organization Basic Safety Training (BST) module. The training focuses on the risks and hazards attributed to the working at heights in close proximity to the Wind Turbine Generators (WTG) and Personal Protective Equipment (PPE) strictly required for the safety of life and health in the wind turbine working environment.
Objective:
The main goal of the GWO Working at Heights training is to provide delegates with skills and knowledge essential for the accident free operation at heights near the WTG. This includes, but isn't limited to the understanding of national legislation, expert use of the PPE and evacuation devices; appreciation of risks and ability to control them as well as take appropriate emergency actions.
Course content:
• Risks and hazards specific to the work at heights in the wind industry;
• Relevant national legislation concerning WAH;
• European and Global marking of Personal Protective Equipment i.e. harnesses, hard hats, lanyards, ropes, etc.;
• Operation of PPE and safety of equipment (inspection, donning, using, storage of harnesses, fall arresters, etc.);
• Correct ladder behavior;
• Emergency procedures in WTG and evacuation equipment.
Assessment: no formal assessment.
Target Audience: Operators and owners of wind turbines, supervisors, etc.
Pre-requisites: there are usually no official pre-requisites for this course, but some providers put the weight limitation for the applicants of no more than 125kg.
Note: WINDA ID will be required for the course admission.
Duration: 2 days.
Validity: 2 years.
Note: the GWO Working at Heights training is revalidated through the GWO Working at Heights Refresher training.
Important: All students are required to register as Delegate in the Global Wind Organization's Training Database – WINDA.
Training Centers Offering This Course