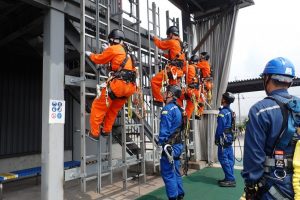 The GWO Working at Heights and Rescue Training is developed for the newcomers to the wind industry and provides a set of theoretical and practical knowledge required for a work on wind turbine generators (WTG).  The course is designed in compliance with Global Wind Organization and Renewables UK requirements.
Objectives:
Upon completion of the GWO Working at Heights and Rescue Training delegates will possess necessary understanding of risks involved in WTG works, safety equipment selection, checking and operations techniques; emergency and rescue protocols including rescuing equipment.
Course content:
• WTG specific risks and hazards;
• National and international legislation concerning working at heights;
• Personal Protective Equipment: selection, pre-use inspection, fitting, correct use and storage;
• Use of the relevant PFPE;
• Self rescue techniques;
• Suspension intolerance prevention and treatment;
• WTG emergency and rescue procedures.
Target Audience: Wind turbine personnel.
Duration: 2 days.
Validity: 2 years.
Note: the GWO Working at Heights and Rescue Training can be revalidated by attending GWO Working at Heights and Rescue Refresher Training
Important: All students are required to register as Delegate in the Global Wind Organization's Training Database – WINDA. For more information, please refer here.
Training Centers Offering This Course