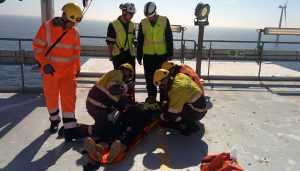 The GWO First Aid course is a mandatory module within the GWO Basic Safety Training. It is intended for all personnel starting to work in the wind industry. Course contains information about human anatomy, injuries one might encounter in a wind turbine and first aid which should be provided in a response to these injuries.
Objective:
Among the goals of the GWO First Aid are the following:
• Introduction of delegates to the main list of injuries which are most likely to happen in a wind turbine with a particular focus on a confided space issue;
• Students familiarization with human body and it's normal functions as well as symptoms of most common diseases and health emergencies;
• Provide first aid training for minor injuries and major accidents;
• Train participants to use an Automatic External Defibrillator (AED).
Course content:
• Rules and regulations (legal back up);
• First aid appliances and necessary equipment;
• Human anatomy;
• Making a correct diagnosis of traumas, illness or health emergency;
• First aid in case of minor injury;
• First aid in case of an life-threatening situation;
• Operation of an Automatic External Defibrillator (AED).
Target Audience: Wind industry personnel stating their work in WTG.
Pre-requisites: Medical fitness and WINDA ID.
Duration: ½ day.
Validity: 2 years.
Training Centers Offering This Course